So why is Valpo's freshest Chef and the man with a green thumb making a move? It's because "Momma didn't raise a fool". Chef Carlos Rivero of Don Quijote has always said his secret to award-winning Spanish cuisine is using the fresh ingredients that he grows on his farm. What many people don't know is that Carlos's mastery of cooking is only equaled by his green thumb. Today you'll learn why Chef Carlos, Valpo's freshest chef, makes the move to Perma-Green.
Carlos has a passion for growing things, from his fresh veggies and fruits, to the greenest grass. Today you'll learn why Valpo's freshest chef makes the move to Perma-Green.
Don Quijote's Chef Carlos loves it fresh! From his private farms to his luscious lawn, Carlos likes to keep it fresh and green. For Carlos, getting there is half the fun. Nurturing life and watching it develop is rewarding.
His inspiration? Family and friends.  According to Carlos, nothing can be better than having family and friends over for a cook-out with paella and Spanish wine.
So why is Valpo's freshest chef making the move to Perma-green? Just keep reading!
Carlos reveals his secrets… it all started with his roots!
So where did Carlos get his inspiration?  What influenced such passion for food and gardening? Family. According to the Don Quijote blog, "With a father that was a celebrated Mediterranean Chef and a mother that woke up and went to bed with the chickens, young Carlos Rivero had farming and cooking in his DNA…. and wine in his blood".
Carlos's first passion is family and friends, and his other passions followed as the natural progression.
A great lawn can be compared to a fine bottle of Spanish wine or a remarkable paella dinner!
What? A great yard is like having a great bottle of Spanish wine or fresh Paella? It seems crazy until you look at it with Spaniard logic.
The paella dinner relies on the freshest ingredients, and a great wine needs grapes from the best vineyards. It's all about the quality of the soil, fertilization, the right watering, controlling pests, and soil management (aeration). Success requires experience and expertise in all these disciplines. The finest vineyards have thousands of years of cultivation.
Now imagine drinking a glass of wine that was created from your cousin Bob's vineyard.
The world's finest wines are made from the finest grapes, and the best backyard cook-outs come from the greenest lawns. So if you want a truly remarkable lawn, invite cousin Bob over for a family outing and leave the lawn care solutions to the experts that have the experience, equipment, and unique qualifications to make it magnificent!
Your lawn is like al fresco dining…
Having a great lawn is like the atmosphere of a great restaurant. It's part of the experience. Nothing beats grandchildren running barefoot through a healthy lawn while friends and family enjoy sharing life's precious moments.
But like a great wine vineyard, a great lawn doesn't just happen by itself.  It relies on expertise and experience. One specific lawn plan doesn't fit all soil compositions. One weed control doesn't prevent all weeds, and one pest control doesn't stop all pests. The secret is knowing what works best, how much to use, and when to use it.
While most of us might lack the right understanding of the who, when, and where of lawn care, Chef Carlos has such expertise. What he lacks is the time to do it! Carlos runs a world-class restaurant, he operates several farms, and his community volunteerism and fundraisers are endless. Now add to his lawn care tasks fertilizing, controlling weeds, pest & mosquito control, and suddenly Carlos has no time left for his grandchildren.
Nothing is as important to Carlos as his time with his grandkids! Carlos needed to figure out a solution… and Carlos knew who could help!
When Carlos called Perma-green for a free estimate, he never would have expected this!
Carlos first met Steve and his wife Sandy as regular customers at Don Quijote. The Daly's and Perma-Green love supporting Northwest Indiana businesses, especially the  Downtown Valpo Restaurants. With a passion for his hometown of Valpo, sponsoring the Downtown Valpo Restaurants was a natural fit for Steve Daly and Perma-Green.
Perma-Green's support for local businesses grabbed the attention of Rivero when he felt he might consider looking at Perma-Green as an option for his lawn care. Rivero wanted more time with his grandchildren and also wanted to make sure pest and weed control was handled by someone certified. Safety and responsibility are significant to how Carlos runs his business and his home. Carlos loves his lawn and was prepared to pay whatever it took to keep his high lawn standards and family safe.
C'mon, man? Lawn solutions that are less than doing it yourself?
Knowing Steve Daly and Perma-Green's reputation, it was no surprise that Valparaiso's oldest lawn care company had the right staff and expertise to maintain his gorgeous lawn, but what the Chef could never have expected was that Perma-Green was able to do it for less money than doing it himself.
Chef Rivero was able to save money and have someone else take on the part of lawn care that benefits from the expertise, experience, and certification of Perma-Green.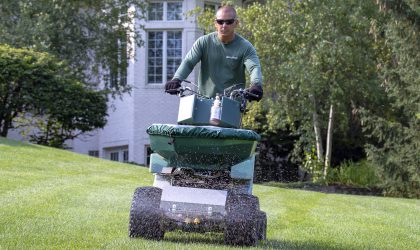 With the volume buying power of Perma-Green, Daly was able to help Carlos maintain his lawn for less money than buying the full season program and doing it himself. Daly believes this is usually the case but is always careful not to over-sell and under-deliver. You don't build trust with customers without accountability for yourself. This is why Daly starts every new relationship with a free inspection.
Daly believes the only accurate way to be accountable for promises and results is knowing the local soil and looking at the homeowner's issues & unique situations. It is why Daly personally appraises every yard before offering a quote.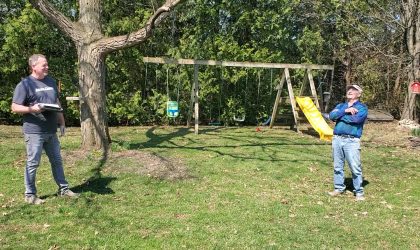 Perma-Green, Official Lawn Care of the Downtown Valpo Restaurant Association
So why did Chef Carlos, Valpo's freshest chef, make a move to Perma-Green? Because Momma didn't raise a fool! Hiring Perma-Green saves Chef Carlos money while letting him have more time to spend with family and friends. But Carlos's mother also taught Carlos the values of supporting local and paying it forward.
Carlos wanted to show his appreciation for Perma-Green's sponsorship of the Downtown Valpo Restaurant's website and events page. When the COVID-19 crisis hit….  the restaurants had businesses like Perma-Green supporting them with needed funds to mitigate and survive.
When the storm hit….Valpo had its roots firmly planted.
Pay it forward! Don Quijote shows appreciation with Free $25 Dinner Certificate to any full season Perma-Green plan
Check out Perma-Green's website for possible solutions for your lawn. Right now Carlos and Don Quijote are donating $25 Dinner for 2 Certificates with every Perma-Green full-season program. Steve Daly can stop by and let you know his best price on your lawn care solutions. You can set your appointment at this link. Daly usually can stop by in just a few days. You can also email Steve at [email protected] or call him at (219) 462-3210.
Un brindis para el cumpleañero. ¡Salud
Jim Jano Janesheski
More reading:
Confessions of a Northwest Indiana Homeowner
Downtown Valpo Group makes it official… the restaurants are getting green!
Positive News about your lawn and COVID-19
The Secret to your best lawn ever in NWI…Just add water!
Get Perma-Green Quote with Steve Daly